Concise guide to Pinnacles National Park (Caves + High Peaks) - Run + Hike trip

Date:
15 October 2016
Duration
: ½ day
Distance
: ~12 miles
Difficulty
: Medium to Strenuous
Elevation gain
: ~1000 feet
Trailhead
: Chaparral parking lot (
West Entrance to the park
)
Trail/Route
: Chaparral Parking Lot (West Entrance) -> Juniper Canyon Trail -> Scout's Peak -> Back down on Juniper Canyon Trail (run) -> Tunnel Trail -> Hawkin's peak -> High Peak trail -> Rim Trail -> Bear Gulch Reservoir -> Bear Gulch Cave trail -> Bear Gulch Caves -> Moses spring trail -> Bear Gulch Day use area -> Bear Gulch trail -> Bench Trail -> Near Old Pinnacles Parking Trailhead -> Old Pinnacles trail -> Balconies Cave Trail -> Balconies Caves -> Balconies Trail -> back to Chaparral parking lot.
Info
: This route gives you a concise tour of Pinnacles NP including high peaks, the two caves - Balconies & Bear Gulch, the reservoir and the walk along the dried West Fork Chalone Creek. Leaves out Chalone peak and Northern Wilderness
Other trips
:
Trip1
Trip2
NPSWebsite
Gurmeet
Best time to visit
: Early winter, spring. It gets quite hot here.
Map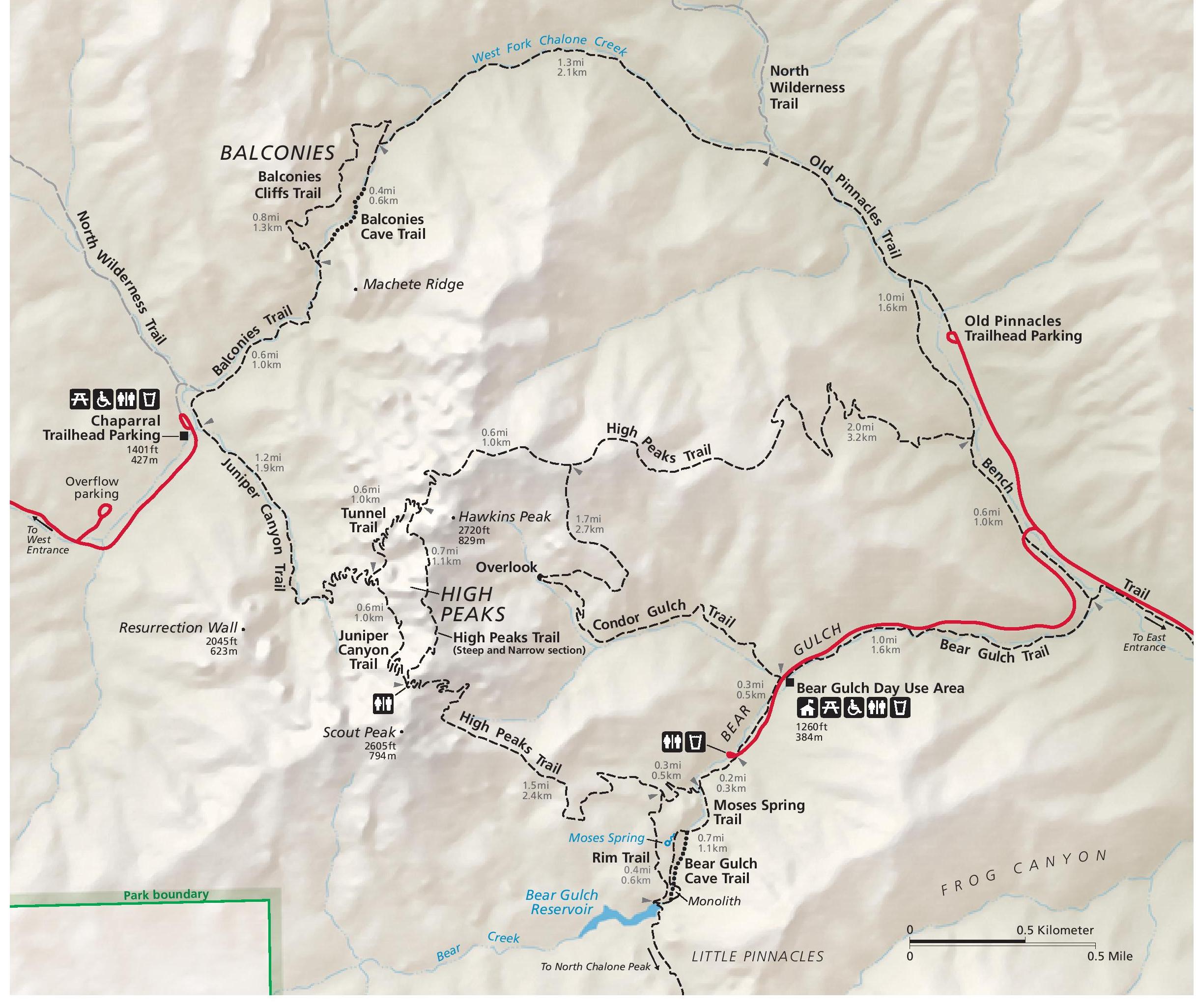 Earlier to 2013 a "National Monument", Pinnacles was granted National Park status in January 2013 under the office of President Barack Obama. The name "pinnacles" was termed by newspapers from the then called "Palisades" in late 1800's bringing in popularity among hikers and picnickers alike. Having been here on a couple of hikes I have become very well versed with all that the park has to offer; both to avid hikers and tourists. Some parts of the landscape reminds me of the Hoodoo's in Bryce Canyon National Park - Utah. This park unlike other national parks in California (Yosemite NP, Sequoia NP, Joshua Tree & others) is less visited making it a great destination for people looking to disconnect from the mundane routine and blend with nature. It also provides a great location for rock climbers with multiple bolted routes featuring both sport climbing and top roping.